Keeping Christ in Christmas
By Larry Burkett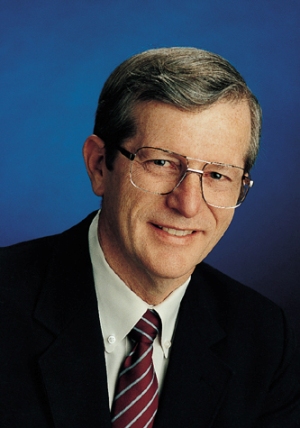 It irritates me when I see Christ being taken out of Christmas. That is not limited to only non-Christians – even Christians have adjusted to the commercialism of the holiday season. Obviously, not all of it is bad – in fact the holiday season provides the opportunity for families to reunite and also provides a pleasant break from our routines. I personally look forward to these days as an opportunity to visit with friends who are much too busy at other times in the year to just stop and relax.
But we have become terribly imbalanced. We give a myriad of useless gifts at Christmas because it's expected of us and we feel guilty if we don't. The commercialized world now makes a $100.00 toy seem perfectly normal. It's easy to observe the stress that our imbalanced society places on family members. Christian parents who cannot provide the latest indulgences to their children are often depressed and distraught. Obviously, no one purposely makes them feel unworthy or insignificant, but the overwhelming emphasis we place on giving at Christmas certainly does.
So great is this social pressure that the closer we get toward Christmas Day, the more depressed and unworthy those who can't indulge feel. Unfortunately the pressures don't end once Christmas is past either. Those who can't afford to compete in their gift-giving often dread congregating with their friends immediately after the holidays, because at "show and tell" time they don't have much to show. It is not a conscious act on the part of most people to openly display their pride. Rather, because we are in a competitive society we often determine a person's worth by his ability to buy things. "For you have died and your life is hidden with Christ in God" (Colossians 3:3).
Balance
One extreme is not balanced by going to the opposite extreme. The distortion of Christmas won't be corrected by eliminating all gift-giving and observing Christmas as a "religious" holiday. The fact is, we do live in this world, and our families are greatly influenced by others. What we need to do is swing back toward the middle and eliminate the need to compete with others. Then we will have the freedom to develop God's plan for our families without the pressure from the commercial world.
In order to do so, I believe that as Christians, we must first believe that God's plan is different from the world's, and is more – not less – fulfilling. It is a deception to think that by adopting a more disciplined lifestyle we are somehow denied the "good life." It's like saying that by avoiding , we deny our children the euphoria that would make them feel "good." But to decide that any and all are evil and absolutely refuse to use them makes for a painful experience if you have to have a broken leg set. The key, as always in God's plan, is balance. That always comes from following God's wisdom.
Shift of Attitudes
Gift-giving at Christmas is a relatively new idea. Until a couple of centuries ago, Christmas was reserved as a religious holiday on a noncommercial basis. Many of our forefathers would have believed that trading presents on the day set aside to observe Christ's birthday was near blasphemy. However, gift giving became a generally accepted practice and was used primarily to show appreciation to loved ones. Gifts were usually simple, regardless of the means of the giver so as to not embarrass those who couldn't afford to give very much. For a long while in most countries, gifts were exchanged on New Year's Day (not a bad idea today–think of the great buys you could get!). Christmas gifts were limited to food for the poor or special gifts to pastors and missionaries.
As with most things that start out right, somewhere along the way the direction shifted. By the early twentieth century, families were exchanging simple gifts, usually handmade, on Christmas Day. Certainly there was really nothing wrong with that, except that under the growing influence of secularism it was a golden opportunity for Satan to divert our attention from Christ to Santa Claus. By post-World War II, Santa was the spotlighted figure at Christmas and December was the calendar month for retail sales of all kinds.
How did it happen? It would seem apparent that Christians aren't as wise in the things of the Lord as non-Christians are in the things of the world. The secular world is always looking for ways to shift attention from God to material things, and we're naive enough to go along. By the time we realize that our whole direction has been diverted, as it has been at Christmas, we believe it's too late to change, so we give up.
"For all that is in the world, the of the flesh and the of the eyes and the boastful pride of life, is not from the Father, but is from the world" (1 John 2:16).
What To Do?
By anyone's standard, the way Christmas is celebrated today is a gross commercialism of the most important birth in history. But we don't need to preach to the unsaved world to put Christ back into Christmas. They shouldn't; we should. One thing I learned a long time ago in counseling is not to try to overcorrect too quickly. Not only are past habits, such as overindulging at Christmas, difficult to change, but quite often others around us don't see things just the way we do. If you attempt to stamp out all Christmas gifts suddenly, you'll end up with a revolt on your hands. The correct way to is make some positive steps to establish a better balance.
Step 1: Stamp out Santa Claus. Christian parents should let their children know that Santa is a fraud. Santa's harmless you say? Not so, when parents knowingly deceive their children about an apparently omnipotent being who travels the world in the wink of an eye and disburses presents on the basis of good or bad. It may be a small matter, but it is a place to start.
Step 2: Husband and wife should pray together and agree on a reasonable amount of gift-giving. Once you have reached a decision that you feel is God's plan for your family, don't get caught by Satan's condemnation as Christmas approaches. The pressure to buy when everybody else is buying will be difficult to resist unless you absolutely agree. And again, I repeat, don't overcorrect. Develop a balanced attitude that will accomplish your goals over the next few years.
One method that has proved successful to many families is to commit an equal amount spent on gifts to feeding the truly needy. In many areas of the world, an amount equal to most of our gift purchases would feed and clothe a family for several months. By giving to a specific family through a Christian organization, your children can see the purpose and value of your sacrifice and theirs. "And whoever in the name of a disciple gives to one of these little ones even a cup of cold water to drink, truly I say to you he shall not lose his reward" (Matthew 10:42).
Step 3: Stamp out credit. As bad as commercialized Christmas is, commercialized Christmas on credit cards is even worse. Many families literally indenture themselves to creditors for a whole year just to buy some useless junk at Christmas. As Christians, we need to decide if we really serve the God of the universe. If so, then He knows our needs and will meet them through His people without indebtedness.
I know that some of the people reading this have desperate needs. I also know that others sincerely want to help but don't know who has needs. The use of credit allows those who have needs to temporarily buffer themselves from God's real source. "As it is written, 'He who gathered much did not have too much and he who gathered little had no lack'" (2 Corinthians 8:15). I believe Satan has used credit cards to cheat God's people out of blessings and to keep them in the bondage of debt.
Why Bother?
With all the other important issues to deal with, such as crime, abortion; a logical question would be, "Why bother with such a minor issue as gifts at Christmas?" Because gift-giving is one area totally under our control, and like the Easter bunny, it is leaven that Satan sprinkles in the church. The practice of giving gifts is not the problem, just as the use of credit is not the problem. It is the misuse of these things that entangles us and diverts attention from Jesus Christ to material things.
We have enlisted in God's army and now we can't identify the real enemy. "No soldier in active service entangles himself in the affairs of everyday life, so that he may please the one who enlisted him as a soldier" (2 Timothy 2:4).
Our problem is that we keep trying to negotiate a compromise with an enemy who is totally dedicated to destroying us. It's time that, as Christians, we decide to draw a battle line again. When it comes to commercializing Christ's birth or resurrection, we need to establish a balance.
Instruct those who are rich in this present world not to be conceited or to fix their hope on the uncertainty of riches, but on God, who richly supplies us with all things to enjoy. 1 Timothy 6:17
This material was taken from the book "Using Your Money Wisely" by Larry Burkett. Published by Moody Press, a division of the Moody Bible Institute of Chicago, IL. Used with Permission.
---
Copyright (c) 2013 – Christ Unlimited Ministries – https://BibleResources.org
If this message has been a blessing to you and you would like to see more like them posted on this site, you can help make this possible by your gifts to Christ Unlimited Ministries. Donate

Betty Miller has written several books on other topics as well. To view titles or purchase those books visit our bookstore.

Topic: Keeping Christ in Christmas
Related Topics:  The Greatest Gift; The Origins of Christmas Traditions; A Simple Christmas – Review; Christmas Giving – Poem; Unholy Christmas Traditions
Click here for a listing of all Topics covered in our Bible Answer Page
The End of the Article