About Christ Unlimited Ministries
Complimentary Bible Study Books
Complimentary Books Permitted Use
At this time, we are offering complimentary Bible Study Books of the
Overcoming Life Series
to all who are interested at
no charge
. You may copy and/or distribute in PDF format the 9 books and 9 workbooks of the series by Betty Miller as a complete unedited work. You may transmit the PDFs via email attachment or you may place the books for download at no charge from your website or website profile. You must not edit, modify or alter the individual PDFs in any way. Each work is offered free and must be copied and/or distributed in its complete, unedited and unmodified format. Since this is a copyrighted work, all PDF files of this work must contain the copyright notice of
Christ Unlimited Ministries.
You may not charge money for the books and workbooks of this series when you give copies to others or when you post these titles for download on your website. You may not include these books and workbooks as a free bonus to other works for which you do charge money. The PDFs of the
Overcoming Life Series
are being distributed at no charge by
Christ Unlimited Ministries
to help others grow in their knowledge and understanding of God and the Bible. This series is being sold elsewhere for $10 for each book title and $15 for each workbook title in the series.
Overcoming Life Series Complimentary Download Registration
After completing the form below you will be taken to the Overcoming Life Series complimentary download page where you can download the series at no charge.
Note: We respect your privacy. We will never sell or share your email address with anyone else. From time to time we will send you helpful information concerning the Overcoming Life Series.
Donations
If you find the Overcoming Life Series valuable to your Christian walk and/or if you would like to help Christ Unlimited Ministries to continue to furnish this valuable series to the Body of Christ please consider supporting this ministry with a donation. Most of Christ Unlimited Ministries support comes from donations given to the ministry by people, like you, who see what God is doing through this ministry on the Internet and want to share in this outreach. It is your donation and gifts that make this ministry possible. Although Christ Unlimited Ministries is a 501(C)3 non-profit ministry, we live utterly by faith in God's provision, as we are not backed by any particular denomination or organization.
About BibleResources.org
BibleResources.org is the main website ministry of Christ Unlimited Ministries. As such, BibleResources.org is free to minister to all true believers regardless of their denomination, as well as non-believers. We daily look to God to meet our needs to fulfill the vision He has given us. Since the hour is late, our desire is to spread these teachings quickly, so that God's people can be equipped to learn how to live the Overcoming Life and become effective disciples of Christ.
BibleReources.org has over 10,000 pages of Bible based information with a Bible Search, Bible Questions and Answers, Daily Devotionals, Bible Helps and much more. It is an extensive library of Biblical information and helps for all Christians.

Please Consider Linking to BibleResources.org
It would be helpful to us if you linked from your website to ours so that we can further spread the message to others. To make this task easy for you we are furnishing below two logos to choose from and sample text for you to add to your website. Please feel free to resize these Logos and to edit the text below or to write your own text to go with it.
Two BbileResources.org Logos you can choose from, download and add to your website: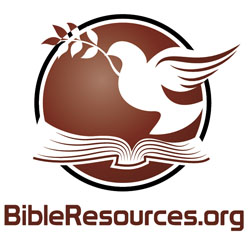 Sample text below about BibleResources.org you can cut and paste to your website:
BibleResources.org offers complete online Bibles in different translations along with a powerful, yet easy to use Bible search and lookup tool. Quickly find Bible answers, Bible teachings, a devotional, Bible studies and a reading plan. This website helps you answer questions about what the Bible says on many important topics. Discover for yourself the great wisdom about God and Jesus Christ as revealed in the Bible at BibleResources.org.
Links
Click Here to purchase Paperback and/or Kindle Editions of the Overcoming Life Series

at Amazon

Click Here to receive complimentary newsletters and/or new blog notifications from BibleResources.org
Thank you for your prayers and support.
His Servant,


Betty Miller
Christ Unlimited Ministries
BibleResources.org