Bud Miller Memorial
December 17, 1928 – March 18, 2020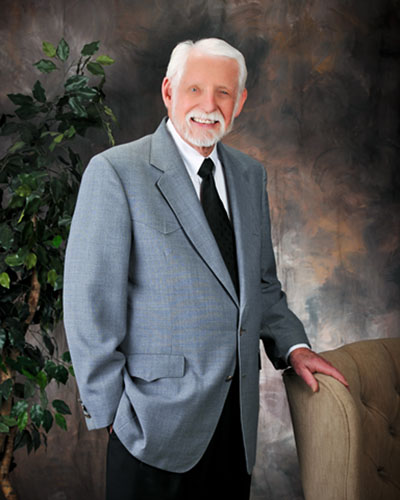 Obituary for Pastor Roy Spencer "Bud" Miller
Pastor Roy Spencer "Bud" Miller, Jr. went to his heavenly home to be with Jesus after an emergency surgery and a short time in ICU at a local hospital in Prescott, Arizona.  His wife, Betty, was by his side when he died on March 18, 2020 at 3:03 in the afternoon.  Bud was born in Plainview, Texas on December 17, 1928 and was an only child. His father and mother were Roy Spencer Miller, Sr. and Christelle Maxwell Owens.  Bud was 92. He and his wife, Betty, have lived in the Prescott and Dewey area in Northern Arizona since 1978, after moving from their home in Texas. They were married in 1977 and have been in ministry together since that time.  Bud and Betty were Christian evangelists for a number of years and then they pastored together at Christ Unlimited Fellowship in the eighties and nineties in Dewey, AZ.
In their later years, they did not want to retire, but rather chose to continue to serve their Lord Jesus, so they founded two major Internet ministries online, at God's leading, over the last 30 years called Bible.com and BibleResources.org.
Bud, in his earlier years, was a rancher and farmer in West Texas. He was a true "West Texas Gentleman." He loved to ride horses with a friend or one of his children at his side.  He was an exceptional man of God with an extraordinary gift from God to encourage and bless others. He was a man of faith and was a good and kind person. We shall all remember his wonderful sense of humor as his dialog was an endless source of laughter and he was a great story teller.  He had an infectious laugh, so everyone laughed with him.  He loved to joke and tease. He made those around him feel loved and appreciated.
Bud also founded 32 businesses over the years; however, his whole life changed when he answered the Lord's call to serve Him in ministry.  He found his greatest fulfillment in serving God, his wife, his family and others for the last 43 years.  Bud was a devoted and faithful husband and he and Betty were happily married for almost 43 years and were rarely separated.  They lived an extraordinary life in the Lord and witnessed many miracles over the years. Bud was an humble man and always gave glory to God for all He did in their lives.
Survivors
Bud leaves behind two sons, Roy Spencer Miller III, wife Mary; Andy Miller, wife Kelle; a daughter, Cindy Smith, husband Randy; all residing in Texas and a stepdaughter, Stacy Fornara residing in Arizona. He has eight (8) grandchildren; plus eleven (11) great grandchildren.
Graveside Service at Christ Unlimited's Headquarters

Because of the pandemic in our land the family is limited as to being able to come together to celebrate his life, so they will plan to have a memorial service to honor this man they all know and love, at a later date in the year, after this Corona virus passes. At present, there will only be a graveside service for close friends and family. It will be held on Saturday at 3:00 PM, April 4, 2020 at the small cemetery located on the Christ Unlimited Ministries property.  Rev. William Mark Bristow of Odessa, Texas will be officiating. Please call Sunrise Funeral Home in Prescott Valley, AZ to let us know if you plan to attend as we must practice social distancing at the service and will need to know how to accommodate those who desire to come. The family wants everyone to be safe, so does not expect a large crowd due to circumstances and only wants those who feel led of the Lord to attend. Your prayers at this time will be sufficient.  This is an RSVP event so you must phone ahead.  Phone Sunrise Funeral Home at 928-772-7475 if you plan to attend.
Viewing of the Body
For those who cannot attend the graveside service, the family will also open the Cherry Chapel on the grounds for a public viewing on Friday, April 3, 2020 during the times from 2:00 to 5:00 PM; but this must also be arranged by appointment only by phoning Sunrise Funeral Home for a time you plan to attend to maintain the government's edict of only 10 people at a time in the chapel. Please phone 928-772-7475, as well, for an appointment to view the body if you are coming on Friday. 
Condolences & Contributions
For those who wish to leave their condolences or comments online you may go to the 'Leave a Reply' in the Comments section at the bottom of this page.
In place of sending flowers, please consider giving a memorial offering. This would please Bud, as Betty will continue to host the BibleResourses.org website to reach the world with the gospel. Thank you.
Mail offerings to: Christ Unlimited Ministries, P.O. Box 850, Dewey, AZ 86327 (make checks payable to: Christ Unlimited Ministries with a note "Memorial Gift")
Donate online at: https://bibleresources.org/church-online/donate/
The Lord Appeared to Bud
During Bud's hospital stay, the Lord appeared at the foot of his bed one night and spoke these words to him from the book of Isaiah. Isaiah was Bud's favorite book in the Bible:
Isaiah 60:1  "Arise, shine; for thy light is come, and the glory of the LORD is risen upon thee."

One of Bud's last notations were written on a piece of paper found in his Bible and it read: "Real ministry flows from what Christ is doing in us, not from what we are trying to do for Him.  True ministry is a natural part of our relationship with Jesus Christ and then it naturally flows over to others."
Closing Prayer by Betty Miller
Dear Heavenly Father,
"I am so thankful that You gave Bud Miller to me and others and that he has been a part of my life for the last 43 years as my dear husband. Lord, because we are not able to celebrate his life right now in a public meeting because of the pandemic, we just want all of those who knew him to know that we honor and celebrate his life and all the contributions he has made to the Kingdom of God by his obedience to You and how that has affected so many lives around the world. Thank you Lord for giving me Bud Miller, my most beloved husband, He was also a wonderful father, grandfather, great grandfather and friend and a committed servant of the Lord.  Father God, we look to you to bring the comfort of the Holy Spirit to each of our hearts right now, as we honor your beloved son and servant. Father, we are thankful to have known such a wonderful man of God whose life touched us all in a special way. He was a man who loved us all and was gifted with so many attributes.  One we will all remember is his wonderful sense of humor who made us all laugh.  He maintained that sense of humor and joy until the end.  Lord, we shall miss him, but we know we shall see him again in heaven and what a day of rejoicing that shall be.  Bud wanted his passing to be a celebration, so now we celebrate his life by carrying in our hearts the many fond memories we have of him.  May we feel the joy he is experiencing now, as he is with Jesus in our heavenly home.  I ask this in Jesus' most precious name.  Amen.".
Betty Miller – March, 2020
_____________________________________________________________________________________________________
Bud would say to us…
"I'm Free"
Don't grieve for me, for now I'm free, I'm following the path God laid for me.
I took his hand when I heard his call, I turned my back and left it all.
I could not stay another day, To laugh, to love, to work, to play.
Tasks left undone must stay that way, I've found that peace at the end of the day.
If my parting has left a void, Then fill it with remembered joy.
A friendship shared, a laugh, a kiss, Ah, yes, these things too I will miss.
Be not burdened with times of sorrow, I wish you the sunshine of tomorrow.
My Life's been full, I savoured much, Good friends, good times, a loved one's touch.
Perhaps my time seemed all too brief, Don't lengthen it now with undue grief.
Lift up your heart and share with me, God wanted me now, He set me free.
Poem by Janice M. Fair-Salters
______________________________________________________________________________________________________
Scriptures Pertaining to Life and Death

Genesis 2:7 And the LORD God formed man of the dust of the ground, and breathed into his nostrils the breath of life; and man became a living soul.
2 Corinthians 5:1-10 (ASV):
1  For we know that if the earthly house of our tabernacle be dissolved, we have a building from God, a house not made with hands, eternal, in the heavens. 2  For verily in this we groan, longing to be clothed upon with our habitation which is from heaven: 3  if so be that being clothed we shall not be found naked. 4  For indeed we that are in this tabernacle do groan, being burdened; not for that we would be unclothed, but that we would be clothed upon, that what is mortal may be swallowed up of life. 5  Now he that wrought us for this very thing is God, who gave unto us the earnest of the Spirit. 6  Being therefore always of good courage, and knowing that, whilst we are at home in the body, we are absent from the Lord 7  (for we walk by faith, not by sight); 8  we are of good courage, I say, and are willing rather to be absent from the body, and to be at home with the Lord. 9  Wherefore also we make it our aim, whether at home or absent, to be well-pleasing unto him. 10  For we must all be made manifest before the judgment-seat of Christ; that each one may receive the things done in the body, according to what he hath done, whether it be good or bad.
Revelation 21:4 He will wipe away every tear from their eyes, and death shall be no more, neither shall there be mourning, nor crying, nor pain anymore, for the former things have passed away."
1 Thessalonians 4:14-17 For since we believe that Jesus died and rose again, even so, through Jesus, God will bring with him those who have fallen asleep. For this we declare to you by a word from the Lord, that we who are alive, who are left until the coming of the Lord, will not precede those who have fallen asleep. For the Lord himself will descend from heaven with a cry of command, with the voice of an archangel, and with the sound of the trumpet of God. And the dead in Christ will rise first. Then we who are alive, who are left, will be caught up together with them in the clouds to meet the Lord in the air, and so we will always be with the Lord.
How Do you Get To Heaven?
Admit – that you are a sinner and in need of a Savior (Romans 6:23)
Abandon – self-effort and repent of your sins and realize that you can not be saved by your works or your own efforts (Acts 16:31)
Accept freely Christ's payment for your sins with His death on the cross, required of the Father (John 3:16)
Acknowledge Jesus Christ as your personal Lord and Savior (Acts 4:12)
If you do these things Christ will come and live in your heart and take you to heaven when you die.
____________________________________________________________________________________________________
December 17, 2020
Message from Betty Miller
I had planned on having a church memorial service here locally to celebrate Bud Miller's life on this earth and his graduation to heaven last March 18, 2020 at the age of 92.  Since many people were not able to attend the funeral services held on April 4, 2020 because of the Pandemic lock-down at the time, I wanted to have a Memorial Service later.  Obviously, the Covid19 virus spread is still going on at this time, so in lieu of having that planned service, I would like to invite you to share just a few words or a short testimony of what Bud meant to your life or something you especially remembered about him that was endearing.  You can do this is the comment section below where you can post what you would like to share with me and his family and friends.  This would be such a blessing to all of us.  We were limited to social distancing and an outdoor service at the time; however, thirty seven people did come and we had a graveside service with Pastor Mark Bristow officiating.  That time was a blessing.
Bud's birth date is December 17th.  He loved his birthday parties down through the years, so I wanted to remember him on his birthday this year, as that is the date I wanted to have a Memorial Service. However, since that is not possible, it would be such a blessing to me and Bud's family and friends to be able to read about how Bud touched your life.   All you need to do is just scroll down to the comment section and leave your thoughts there.  I really miss Bud a lot, but I am happy he is home with Jesus and I thank the Lord every day that He gave me the gift of a beautiful marriage with Bud for 43 years. Below is a poem I wrote a number of years ago as a gift to him on one of his birthdays.  I share my heart to him as the wonderful husband and friend he was. I pray it will bless you.
We will soon celebrate another birthday and that is our Lord's birthday on December 25th and I pray that you and your family will have a blessed Christmas and a wonderful New Year in Christ!  Happy Birthday, Jesus.
Blessings, Betty Miller
Birthday Greetings to Bud Miller
(Poem I wrote to Bud a number of years ago.)
Birthday Greetings came from all over the world from your Internet family.
Now it is our turn to applaud you, and look back over the years happily.

I want to share first, as I know you better than anyone in the room.

You have always been faithful since we became a bride and groom.
 In a world where faith and trust are scarcities, I am thankful for your love.
I know God sent a special man into my life as a gift from above.
It has been a joy to serve in the ministry together over the years.
You've stood with me and others, through times of happiness and tears.
Your virtues are many, as you are a gentleman who is kind and sweet,
A good husband, and the nicest person you would ever meet.
Your sense of humor is one thing that everyone loves about you.
You've had us all laughing, including the congregation in the pew.
Yes, you make us grin, as you always have a good story to tell,  
That's one reason you spend so much time on "Ma Bell"
Sharing and talking with your friends, who know you well.
But they are always encouraged when you finish your latest tale.
However, when it comes to preaching, you are serious in your mission.
The gospel going out to the whole world, that's your vision!
You want everyone to know the good news about our Lord.
That's why you work to build the website strong in the Word.
Your race is not finished yet, so you will continue on.
And I will be at your side to see that it is done.
We still have many things to do and more gospel seeds to sow.
And lots of ideas to implement so that BibleResources will grow.
So, Happy Birthday to my partner and closest friend.
Yes, we will continue together until we reach our destiny's end.
Then I know you will hear from our Master at the setting of the sun.
Enter in, Bud Miller, good and faithful servant, well done.
In memory of Bud Miller – a Poem from his wife, Betty
__________________________________________________________________________________________________
Please leave your condolences or remembrances of Bud
in the "Leave a Reply" Comment box below:
Note: Your Email address will be kept private and will NOT be displayed with your Comments below.