Baptism in the Holy Spirit: What the Bible Says
By Betty Miller
I indeed baptize you with water unto repentance: but he that cometh after me is mightier than I, whose shoes I am not worthy to bear: he shall baptize you with the Holy Ghost, and with fire. Matthew 3:11
And John bare record, saying, I saw the Spirit descending from heaven like a dove, and it abode upon him. And I knew him not: but he that sent me to baptize with water, the same said unto me, Upon whom thou shalt see the Spirit descending, and remaining on him, the same is he which baptizeth with the Holy Ghost. And I saw, and bare record that this is the Son of God. John 1:32-34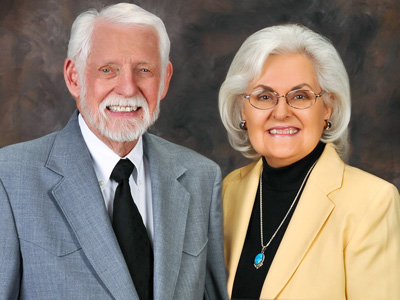 The baptism in the Holy Spirit is a crisis experience just as our initial conversion experience was. We cannot be gradually baptized in the Holy Ghost, just as we cannot be gradually baptized in water. Certainly we can be gradually filled with God's Spirit, but one day that "filling" will spill over into a baptism or complete immersion in the Holy Ghost. Many believe they need not ask for this experience because they think they receive the Holy Spirit at conversion. While this is true in the sense that the Holy Spirit comes upon us, and in us, to plant the seed of life in Christ, it is not true that we are completely filled with His Spirit unless we ask for it. "…How much more shall your heavenly Father give the Holy Spirit to them that ask him?" (Luke 11:13).
Many people have been "born again" and have the Holy Spirit working in their lives, but have never received the baptism in the Holy Ghost which equips them for service and gives them the power needed to overcome in Christ. "For John truly baptized with water; but ye shall be baptized with the Holy Ghost not many days hence… But ye shall receive power, after that the Holy Ghost is come upon you: and ye shall be witnesses unto me both in Jerusalem, and in all Judea, and in Samaria, and unto the uttermost part of the earth" (Acts 1:5 and 8). If you, as a Christian, have not known the power of God in being able to overcome sin, to witness and to know God in His fullness, then you need to ask God for the baptism in the Holy Ghost. There were also Christians in Paul's day who did not know about the power that was available to them. We find this recorded in Acts 19:2-6:
He said unto them, 'Have ye received the Holy Ghost since ye believed?' And they said unto him, 'We have not so much as heard whether there be any Holy Ghost.' And he said unto them, 'Unto what then were ye baptized?' And they said, 'Unto John's baptism.' Then said Paul, 'John verily baptized with the baptism of repentance, saying unto the people, that they should believe on him which should come after him, that is, on Christ Jesus.' When they heard this, they were baptized in the name of the Lord Jesus. And when Paul had laid his hands upon them, the Holy Ghost came on them; and they spake with tongues, and prophesied. Acts 19:2-6
This Scripture clearly shows us there is more than one kind of baptism. These Christians had received water baptism, but not the Holy Ghost baptism until Paul laid his hands on them and prayed. We also see that the gifts of the Holy Spirit accompany this baptism, as they spoke in tongues and prophesied.
Another account of this taking place is found in Acts 8:14-20:
Now when the apostles which were at Jerusalem heard that Samaria had received the word of God, they sent unto them Peter and John: Who, when they were come down, prayed for them, that they might receive the Holy Ghost: (For as yet he was fallen upon none of them: only they were baptized in the name of the Lord Jesus.) Then laid they their hands on them, and they received the Holy Ghost. And when Simon saw that through laying on of the apostles' hands the Holy Ghost was given, he offered them money, Saying, Give me also this power, that on whomsoever I lay hands, he may receive the Holy Ghost. But Peter said unto him, Thy money perish with thee, because thou hast thought that the gift of God may be purchased with money. Acts 8:14-20
Holy Spirit Is a Gift
Still again we find an account of the gift of the Holy Spirit being given in Acts 11:14-17:
Who shall tell thee words, whereby thou and all thy house shall be saved. And as I began to speak, the Holy Ghost fell on them, as on us at the beginning. Then remembered I the word of the Lord, how that he said, John indeed baptized with water; but ye shall be baptized with the Holy Ghost. For as much then as God gave them the like gift as he did unto us, who believed on the Lord Jesus Christ; what was I, that I could withstand God? Acts 11:14-17
God's gift of the Holy Ghost is promised to us today and not just for the saints back then as we find Peter saying, "…Repent, and be baptized every one of you in the name of Jesus Christ for the remission of sins, and ye shall receive the gift of the Holy Ghost. For the promise is unto you, and to your children, and to all that are afar off, even as many as the Lord our God shall call" (Acts 2:38-39). The Holy Ghost is God's gift to us. As we are baptized in His Spirit we will find that we will experience the gift of speaking in tongues, plus all the other gifts of the Spirit when needed, if we continue to follow Him (1 Corinthians 12, 13 and 14). These are God's gifts of power to enable us to accomplish the task to which we have been commissioned. Although the gift has been abused by many, we should not take lightly the Lord's words to us in John 7:37b-39:
…Jesus stood and cried, saying, If any man thirst, let him come unto me, and drink. He that believeth on me, as the scripture hath said, out of his belly shall flow rivers of living water. (But this spake he of the Spirit, which they that believe on him should receive: for the Holy Ghost was not yet given; because that Jesus was not yet glorified.) John 7:37b-39
And when the day of Pentecost was fully come, they were all with one accord in one place. And suddenly there came a sound from heaven as of a rushing mighty wind, and it filled all the house where they were sitting. And there appeared unto them cloven tongues like as of fire, and it sat upon each of them. And they were all filled with the Holy Ghost, and began to speak with other tongues, as the Spirit gave them utterance. Acts 2:2-4
If the disciples of the Lord needed to be filled with the Holy Ghost then, how much more do we need to be filled in our day? We should not allow what other men think or say about the Baptism in the Holy Ghost to prevent us from seeking this wonderful blessing. We should seek the Lord with a humble heart for the truth of what is written in the Bible and ask Him to baptize us in the Holy Spirit. We can trust Him to show us the truth if we come to Him with an open heart and mind with a willingness to obey Him.
Then Peter and the other apostles answered and said, We ought to obey God rather than men. The God of our fathers raised up Jesus, whom ye slew and hanged on a tree. Him hath God exalted with his right hand to be a Prince and a Saviour, for to give repentance to Israel, and forgiveness of sins. And we are his witnesses of these things; and so is also the Holy Ghost, whom God hath given to them that obey him. Acts 5:28-32
---
Copyright (c) 2013 – Christ Unlimited Ministries – https://BibleResources.org
If this message has been a blessing to you and you would like to see more like them posted on this site, you can help make this possible by your gifts to Christ Unlimited Ministries. Donate

Betty Miller has written several books on other topics as well. To view titles or purchase those books visit our bookstore.

Topic: What the Bible Says about Baptism in the Holy Spirit
Related Topics:  Baptism in Water; Gift of the Holy Spirit; Gift of Tongues; Born Again; Scriptural Prayer for Tongues
Click here for a listing of all Topics covered in our Bible Answer Page
The End of the Article