Is Your Tongue Hard to Control?
by Cindy Vander Haar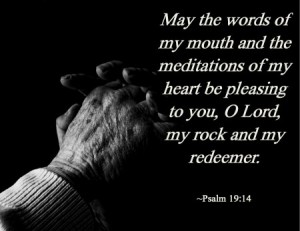 Thank you for visiting Scripture Prayer for the Tongue.  To fully understand the principles of praying scripturally, please read the teaching "Why Pray Scripture?" .
Hearing God: As it is rare to hear an audible voice from God, one of the ways God will speak to us is through His written Word and a small still voice inside us. Before reviewing the scripture references below that address what the Bible says about controlling the tongue ask the Holy Spirit of revelation to join you. When certain verses capture your attention more than others, meditate and incorporate those into your personal daily prayer life.
Heavenly Father, we ask You to give complete knowledge of Your Will to this reader, and to give him/her Your spiritual wisdom and understanding as they seek You with all their hearts and lean not on their own understanding. In Jesus' name we pray. Amen.
---
Scripture References About the Tongue
(All scripture is quoted from the King James Version unless otherwise noted.)
And God said, Let there be light: and there was light. And God saw the light, that it was good: and God divided the light from the darkness. And God called the light Day, and the darkness he called Night. And the evening and the morning were the first day. And God said, Let there be a firmament in the midst of the waters, and let it divide the waters from the waters. And God made the firmament, and divided the waters which were under the firmament from the waters which were above the firmament: and it was so. And God called the firmament Heaven. And the evening and the morning were the second day. And God said, Let the waters under the heaven be gathered together unto one place, and let the dry land appear: and it was so. And God called the dry land Earth; and the gathering together of the waters called he Seas: and God saw that it was good. And God said, Let the earth bring forth grass, the herb yielding seed, and the fruit tree yielding fruit after his kind, whose seed is in itself, upon the earth: and it was so. And the earth brought forth grass, and herb yielding seed after his kind, and the tree yielding fruit, whose seed was in itself, after his kind: and God saw that it was good. And the evening and the morning were the third day. And God said, Let there be lights in the firmament of the heaven to divide the day from the night; and let them be for signs, and for seasons, and for days, and years. Genesis 1:3-14
By the word of the LORD were the heavens made; and all the host of them by the breath of his mouth. He gathereth the waters of the sea together as an heap: he layeth up the depth in storehouses. Let all the earth fear the LORD: let all the inhabitants of the world stand in awe of him. For he spake, and it was done; he commanded, and it stood fast. Psalm 33:6-9
And God said, Let us make man in our image, after our likeness… Genesis 1:26
Let no foul or polluting language, nor evil word nor unwholesome or worthless talk ever come out of your mouth, but only such speech that is good and beneficial to the spiritual progress of others, as is fitting to the need and the occasion, that it may be a blessing and give grace (God's favor) to those who hear it. Do not grieve the Holy Spirit of God by Whom you were sealed for the day of redemption…Let all bitterness and indignation and wrath (passion, rage, bad temper) and resentment (anger, animosity) and quarreling (brawling, clamor, contention) and slander (evil speaking, abusive or blasphemous language) be banished from you, with all malice (spite, ill will, or baseness of any kind). And become useful and helpful and kind to one another, tenderhearted (compassionate, understanding, loving-hearted), forgiving one another (readily and freely) as God in Christ forgave you. Ephesians 4:29 (AMP)
Wherefore, my beloved brethren, let every man be swift to hear, slow to speak, slow to wrath: For the wrath of man worketh not the righteousness of God. James 1:19-20
Consider what a great forest is set on fire by a small spark. The tongue also is a fire, a world of evil among the parts of the body. It corrupts the whole person, sets the whole course of his life on fire, and is itself set on fire by hell. James 3:5-6 (NIV)
All kinds of animals, birds, reptiles an creatures of the sea are being tamed and have been tamed by man, but no man can tame the tongue. It is a restless evil, full of deadly poison. With the tongue we praise our Lord and Father, and with it we curse men, who have been made in God's likeness. Out of the same mouth come praise and cursing. My brothers, this should not be. Can both fresh water and salt water flow from the same spring? My brothers, can a fig tree bear olives, or a grapevine bear figs? Neither can a salt spring produce fresh water. James 3:7-12 (NIV)
We all stumble in many ways. If anyone is never at fault in what he says, he is a perfect man, able to keep his whole body in check. James 3:2 (NIV)
There is not even one thing outside a man which by going into him can pollute and defile him; but the things which come out of a man are what defile him and make him unhallowed and unclean. Mark 7:15 (AMP)
If anyone thinks himself to be religious (piously observant of the external duties of his faith) and does not bridle his tongue, but deludes his own heart, this person's religious service is worthless (futile and barren). James 1:26 (AMP)
How can you speak good things when you are evil (wicked)? For out the fullness (the overflow, the superabundance) of the heart the mouth speaks. Matthew 12:34b (AMP)
Death and life are in the power of the tongue, and they who indulge in it shall eat the fruit of it. Proverbs 18:21 (AMP)
…for out of the abundance of the heart his mouth speaketh. Luke 6:45
For by your words you will be justified and acquitted, and by your words you will be condemned and sentenced. Matthew 23:37 (AMP)
Set a guard, O Lord, before my mouth; keep watch at the door of my lips. Psalm 141:3 (AMP)
Open your mouth, judge righteously, and administer justice for the poor and needy. Proverbs 31:9 (AMP)
There are those who speak rashly, like the piercing of a sword, but the tongue of the wise brings healing. Proverbs 12:18 (AMP)
Be not rash with your mouth, and let not your heart be hasty to utter a word before God. For God is in heaven, and you are on earth; therefore let your words be few. For a dream comes with much business and painful effort, and fool's voice with many words. Ecclesiastes 5:2 (AMP)
If I can speak in the tongues of men and even of angels, but have not love (that reasoning, intentional, spiritual devotion such as inspired by God's love for and in us), I am only a noisy gong or a clanging cymbal.
And if I have prophetic powers (the gift of interpreting the divine will and purpose), and understand all the secret truths and mysteries and possess all knowledge, and if I have sufficient faith so that I can remove mountains, but have not love (God's love in me) I am nothing (a useless nobody).
Even if I dole out all that I have to the poor in providing food, and if I surrender my body to be burned or in order that I may glory, but have not love (God's love in me), I gain nothing.
Love endures long and is patient and kind; love never is envious nor boils over with jealousy, is not boastful or vainglorious, does not display itself haughtily.
It is not conceited (arrogant and inflated with pride); it is not rude (unmannerly) and does not act unbecomingly. Love (God's love in us) does not insist on its own rights or its own way, for it is not self-seeking; it is not touchy or fretful or resentful; it takes no account of the evil done to it (it pays no attention to a suffered wrong.)
It does not rejoice at injustice and unrighteousness, but rejoices when right and truth prevail.
Love bears up under anything and everything that comes, is ever ready to believe the best of every person, its hopes are fadeless under all circumstances, and it endures everything (without weakening.)
Love never fails (never fades out or becomes obsolete or comes to an end.)
…And so faith, hope, love abide (faith-conviction and belief respecting man's relation to god and divine things; hope—joyful and confident expectation of eternal salvation; love—true affection for God and man, growing out of God's love for and in us), these three; but the greatest of these is love. 1 Corinthians 13 (AMP)
Pleasant words are as a honeycomb, sweet to the mind and healing to the body. Proverbs 16:24 (AMP) 
Keep your tongue from evil and your lips from speaking deceit. Psalm 34:13
A gentle tongue (with it's healing power) is a tree of life, but willful contrariness breaks down the spirit. Proverbs 15:4 (AMP)
Roll your works upon the Lord (commit and trust them wholly to Him: He will cause your thoughts to become agreeable to His will, and ) so shall your plans be established and succeed. Proverbs 16:3 (AMP) 
…Continue to work out your salvation with fear and trembling, for it is God who works in you to will and to act according to his good purpose. Philippians 2:13 (NIV)
There hath no temptation taken you but such as is common to man: but God is faithful, who will not suffer you to be tempted above that ye are able, but will with the temptation also make a way to escape, that ye may be able to bear it. 1 Corinthians 10:13
In all my prayers for all of you, I always pray with joy because of your partnership in the gospel from the first day until now, being confident of this, that he who began a good work in you will carry it on to completion until the day of Christ Jesus. Philippians 1:4-6
But Jesus looked at them and said, With men this is impossible, but all things are possible with God. Matthew 19:26 (AMP)
Praise the Lord, O my soul; all my inmost being, praise his holy name. Psalm 103:1
---
Scripture Prayer for the Tongue
Dear Lord,
You created the universe when You spoke it into existence with the words of Your own mouth. Your words are almighty and powerful. And now You say there is power in the words that I speak for I am created in Your image. Help me to be careful and responsible with my mouth, to be quick to hear, slow to speak, and slow to anger.
You tell me in Your Word that blessing and cursing come from the same mouth—that even a fountain does not spout fresh water and bitter water from the same spout. And, yet, with my tongue I bless you, Lord, and with it I curse men who are made in Your likeness. Forgive me, Lord, for my untamed tongue that is so often full of poison. Change my heart, Oh Lord, for out of the abundance of the heart, the mouth speaks.
Help me, Lord, for You have said that life and death are in the power of the tongue. Forgive me for being critical, judgmental, sarcastic, rude or unkind with my words. Help me to speak life and encouragement to those around me. Help me to walk in love always offering words of kindness, love, and grace so that I do not grieve the Holy Spirit. Help me to be wise and use my tongue to speak healing words because a gentle tongue is like a tree of life, and I don't want to crush other people's spirits.
Put a watch guard over my mouth and keep me from trouble. Teach me to know when to speak and when to be still or pray. And when I speak, help me to speak the truth in love. I don't want my service to You to be worthless because I cannot bridle my tongue. I want to mature and keep my lips from evil. I trust you Lord, to cause me to desire and to do Your will and to cause my thoughts to become agreeable to Your will. I thank you for Your grace for me, Lord, and I give You all the glory for the changes You bring in my life by Your Holy Spirit.
In Jesus' name, Amen.
---
Click Here to Donate Online Christ Unlimited Ministries sponsors this site and is a 501(C)3, tax-exempt, non-profit ministry. We appreciate your love and support. Your love gifts will help us continue this work and expand it to reach millions. God bless you! You can send an offering by mail if you prefer to: Christ Unlimited Ministries, P.O. Box 850, Dewey, AZ 86327

Betty Miller has written several books on other topics as well. To view titles or purchase those books visit our bookstore.

And they overcame him by the blood of the Lamb, and by the word of their testimony; and they loved not their lives unto the death. Revelation 12:11
Scripture Prayer for the Tongue was written to lift up and encourage the body of believers; sharing your testimony is one of the ways that we continue to overcome the enemy.