Happy New Year!
The Bible says, "WISDOM IS BETTER THAN GOLD." SO NOW YOU CAN READ A FREE ONLINE DAILY BIBLE DEVOTIONAL on "God's Wisdom For Daily Living."
Start your year off right with a 5 minute read to attain more of God's Wisdom. This devotional has a 5 Star Rating at Amazon.com if you would prefer to purchase it in book form or Kindle. However, you can read this inspirational devotional FREE at: https://bibleresources.org/daily-bible-devotional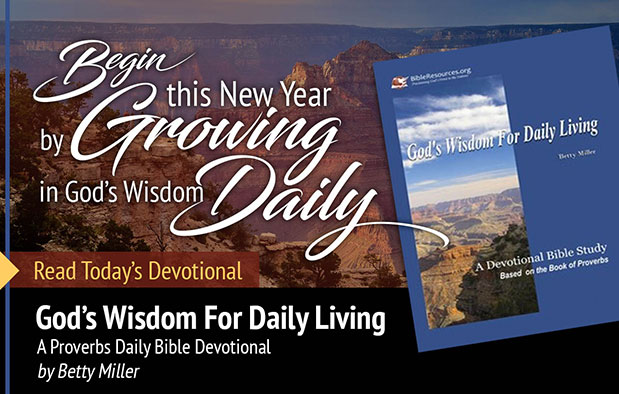 Our prayer is that God will grant each reader His Wisdom and guidance from on High and that we all become more like Him by reading and applying His Word to our individual lives. To God be the glory for all He is doing through this Daily Devotional!
Blessings,
Betty Miller


Betty and Bud Miller
Christ Unlimited Ministries
P.O. Box 850
Dewey, AZ 86327
928-632-8005
BibleResources.org
BibleResources@ChristUnlimited.com
If you would like to help us spread the Word of God by supporting this ministry: Click here to donate