Isaiah 7:14  "Therefore the Lord himself shall give you a sign; Behold, a virgin shall conceive, and bear a son, and shall call his name Immanuel."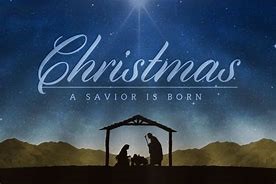 Dear Ministry Friends:
I pray you are blessed on this special day of Christmas. The miracle of Christmas is that Jesus was born of a virgin woman, named Mary, and through the power of the Holy Spirit she conceived and brought forth Jesus into this world. Isaiah tells us this was a sign from God that He would be the Messiah.  One of Jesus' names was "Immanuel" which means "God is with us."  I thought about how the Lord trusted Mary to carry the son of God in pregnancy and then she was the one to raise him from a babe in this earth to a full grown man.  Jesus was fully God and fully man, whose mission was to come to earth and be the sacrifice for all men so that their sins (yours and mine) could be forgiven. He did this by going to a cruel cross to pay the price for our sins and through His death, burial and resurrection we can now be forgiven and receive eternal life and live with God in heaven forever and ever.  
 As I pondered the role of Mary in this amazing plan, I thought how amazing that God put His trust in Mary to fulfill her role as the mother of Christ. She was given the task of being responsible for the young child in this earth and she was faithful in doing this.  Then I thought are we trustworthy today to fulfill the role that each of us are called to do in the earth?  Am I trustworthy?  Are we trustworthy to do our part in seeing that others come to know Jesus?  The Holy Spirit is looking for people who will pray and witness in this hour. Can the Lord trust us to carry through and do our part?  I applied this to my own heart, as I truly want to be among the ones that the Lord will find faithful in this hour. I do want to be one that will be obedient to do His will. I think one of the saddest things Jesus asks in the New Testament is will He find faith when He returns. Luke 18:8  "…  Nevertheless when the Son of man cometh, shall he find faith on the earth?" I do not want to be among those who are spoken of as a faithless generation. 
As I thought and prayed about this, I realized the only way I can continue to walk in faith is to be in a close relationship with Jesus and stay in prayer and the Word of God. Jesus is coming again soon. We can know this by the many Bible prophecies that are now rapidly coming to pass.  We do not know the exact time Christ will return for His Bride, as the Bible clearly states that in the words of Jesus, but we are admonished to be watchful and to be ready. 
Matthew 24:36  "But of that day and hour knoweth no man, no, not the angels of heaven, but my Father only."
 Matthew 24:42  "Watch therefore: for ye know not what hour your Lord doth come."
 Matthew 24:44  "Therefore be ye also ready: for in such an hour as ye think not the Son of man cometh."
 Matthew 24:50  "The lord of that servant shall come in a day when he looketh not for him, and in an hour that he is not aware of,"
 Matthew 25:13  "Watch therefore, for ye know neither the day nor the hour wherein the Son of man cometh."
I believe the Lord is right now in the process of purifying the hearts of His people so we will be ready for that day and not be ashamed when we stand before Him.  Here is my prayer for myself and all of God's people:
"Dear Heavenly Father,  We realize we are living in what the Bible calls "perilous times," but we also know You told us in Your Word in Matthew 24 that when we saw all these things coming to pass all over the world, that we were to "look up, because our redemption was drawing close."  Lord, we celebrate your birth this Christmas as you came the  first  time, as a babe in a manger; however, we know the next time you come You are coming as the King of this world to set up Your Kingdom and that You plan to use Your people in this great plan.  Lord, we do not want to fail You and be faithless, so purify our hearts and minds and empower us to serve you with a 100% dedication to Your will.  Lord, we cannot do this without the power of the Holy Spirit, so fill us with Your power and grace to live that kind of life.  Lord, deliver us from all deception and all evil so that we will be holy, as You command us to be like You.  Let this season remind us that You are still doing miracles and as we commit and obey You, You will do the work in us to free us of all bondage, so we can serve You in the Kingdom of God that is coming to the earth. Lord, may You be able to trust us, as You did Mary, with the works of God that You want to demonstrate through us in the earth. Lord, as we enter into this coming revival, let us yield to You so we can work with You to set up the Kingdom of God in this earth, as we prepare to enter into the millennium.  You said all things were possible with God so we trust you will do this.  Help us to be trust worthy as Mary was. We know we can trust You and that you will not fail us in the area of the things we need like healing, safety, provision and the salvation of our loved ones. We praise you that You hear our prayers.  We ask this in faith and humility and in the mighty name of Jesus.  Amen."
 I know this is not the traditional Christmas greeting, but we do not live in normal times and time is running out for people to come to the Lord, so I want to make sure all who know me will also come to know Jesus if they do not already know Him. Or for some, if you know Him, I encourage you to make a total commitment to Him if you have not already done so, as we are facing unprecedented days ahead that will challenge our faith and many of our decisions could be life and death decisions.  Even when Jesus was born, Joseph and Mary faced the threat of death regarding Jesus, since there was an edict by King Herod that went out to kill all the baby boys in Bethlehem born around the time of Jesus' birth.  As we read the Christmas story in scripture in Luke 2, because Joseph and Mary were obeying God, an angel of the Lord warned them to leave Bethlehem where this slaughter was to take place.  They had been given some costly gifts by the Wise Men which I believe financed their trip to Egypt as they moved in faith, not fear.  Now, I also believe that other babies in Bethlehem could have been spared, as well; but could it have been because their parents were not as committed, as Joseph and Mary were?  Was their lack of commitment, perhaps the reason they did not hear God's voice, so they lost their baby boys.  Only God knows, but I know God is no respecter of people and had they been listening, I do believe their children could have been spared as well.  I do believe we need to be close to Jesus at this time, so we can hear God as It could be our salvation in such a chaotic and dangerous world?  I am sharing this greeting with all, as I want to be a faithful witness for our Lord and be trustworthy in His sight.
May we all hear God and obey and thus walk in His blessings this coming year.  Merry Christmas and Happy New Year in the Lord!  I am grateful for all my friends and family who have blessed me and the ministry over this past year.  Thank you and may God richly bless you for blessing me.
Ephesians 1:3  "Blessed be the God and Father of our Lord Jesus Christ, who hath blessed us with all spiritual blessings in heavenly places in Christ."
Deuteronomy 28:2  "And all these blessings (listed in Deuteronomy 28) shall come on thee, and overtake thee, if thou shalt hearken unto the voice of the LORD thy God."
Christmas 2022

Blessings,
Betty Miller
Christ Unlimited Ministries
BibleResources.org