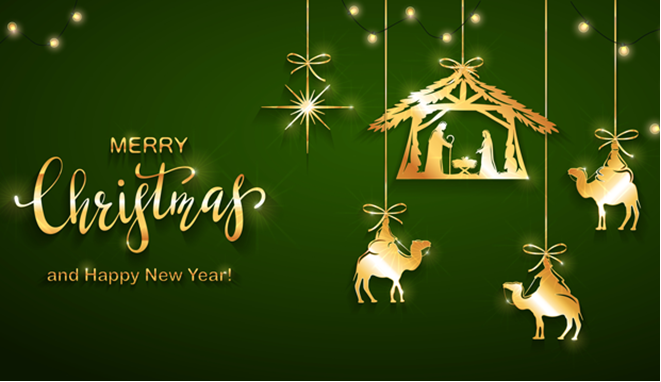 Merry Christmas from Betty Miller and the Christ Unlimited Ministries Staff at BibleResources.org
Ephesians Chapter 1:2-3 & 16-22: 

 

  
2  Grace be to you, and peace, from God our Father, and from the Lord Jesus Christ.
3  Blessed be the God and Father of our Lord Jesus Christ, who hath blessed us with all spiritual blessings in heavenly places in Christ:
 
16  Cease not to give thanks for you, making mention of you in my prayers;
17  That the God of our Lord Jesus Christ, the Father of glory, may give unto you the spirit of wisdom and revelation in the knowledge of him:
18  The eyes of your understanding being enlightened; that ye may know what is the hope of his calling, and what the riches of the glory of his inheritance in the saints,
19  And what is the exceeding greatness of his power to us-ward who believe, according to the working of his mighty power,
20  Which he wrought in Christ, when he raised him from the dead, and set him at his own right hand in the heavenly places,
21  Far above all principality, and power, and might, and dominion, and every name that is named, not only in this world, but also in that which is to come:
22  And hath put all things under his feet, and gave him to be the head over all things to the church,
 May this scripture strengthen you and bless you now and in the New Year!  You are in my prayers. Thank you for the love and blessings you have shown me over this last year. One of the greatest blessings is to have great family and friends in my life.  God has blessed me by taking care of me since Bud went to be home with Him. I am thankful I can continue to minister through the BibleResources.org website.  My prayer is that it blesses you, and those seeking God, so they can find Him and be enlightened in the things of God.
I am thankful for the greatest gift He gave all of us and that is His dear Son, Jesus.  That little babe, born in a manger, is now manifesting Himself in our world as the man who is King of Kings and Lord of Lords and is soon to make Himself known as the mighty God in all of His fullness at His second coming.  May we all prepare ourselves for that glorious day, as we humble ourselves, repent and draw close to Him and commit to His will.
1 Corinthians 2:9  "But as it is written, eye hath not seen, nor ear heard, neither have entered into the heart of man, the things which God hath prepared for them that love him."
 May you also experience His love, peace, joy, provision and His protection during this troublesome time. Merry Christmas and a Blessed New Year!

Blessings,
Betty Miller
www.BibleResources.org