Repairer of the Breach: What the Bible Says about Bridging the Generation Gap
By Betty Miller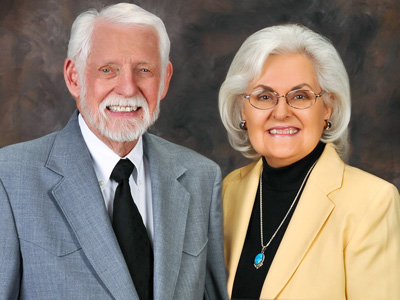 The Bible paints a very interesting picture of the "last days." On one hand we see great tribulation, yet we also see an increased measure of His Spirit being poured out on all flesh. Many end-time biblical scholars will focus on just one side of this spectrum. Yet, God wants us to see and be prepared for the "big picture." The better we can grasp the gloom and the glory of the last days, the better prepared we will be to function successfully in these times, and to disciple the nations according to the full truth of God's plan.
Power in Generational Unity
Although there are many aspects to the way that the glory and judgments of the Lord will be manifested on the earth in the last days, we want to address one particular issue in this article: God's plan for restoring the generations. We understand that The Call DC is one assembly that at first was directed only to the youth of the nation to gather in Washington D.C. for a solemn day of prayer and fasting. Later, it was made a multi-generational assembly, calling for children and parents to assemble together at the nation's capital. We are convinced that calling all the generations together was pleasing to the Spirit. God prefers to work within the scheme of many generations interacting with each other, rather than an isolated generation. One of His most revealing titles for Himself is "the God of Abraham, Isaac and Jacob." He is the God of many generations.
Throughout His word, the righteous declare that their purpose is to declare the glory of God to the next generation. Psalm 71:18 says, "Even when I am old and gray, do not forsake me, O God, till I declare your power to the next generation, your might to all who are to come." Likewise, Psalm 145:4 declares, "One generation shall praise thy works to another, and shall declare thy mighty acts." From these, and many other scriptures, we can see clearly that each generation is called to build on the foundation left by the previous generation. Therefore, all generations are in great need of each other to complete the work that God has called His corporate Body to fulfill.
Satan's Plan of Destruction
Because of this, we can expect that there will be great generational warfare at the end of the age. Within the tribulation and chaos of this time, Satan has a plan to cause tremendous disunity and mistrust between the generations. This is already happening in the world in a greater measure than we have ever seen. Nevertheless, Satan will ultimately fail, because the Lord has already ordained that a key movement in the end times will be one of restoration among the generations! "Behold, I will send you Elijah the prophet before the coming of the great and dreadful day of the LORD: And he shall turn the heart of the fathers to the children, and the heart of the children to their fathers, lest I come and smite the earth with a curse" (Malachi 4:5-6, KJV). Part of the reason this work of restoration will be so glorious, is because of the severe darkness of the times. Even as we see as fulfillment of Malachi 4:5-6, we will also the see the fulfillment of 2 Timothy 3:1-4, "But mark this: There will be terrible times in the last days. People will be lovers of themselves, lovers of money, boastful, proud, abusive, disobedient to their parents, ungrateful, unholy, without self-control, brutal, not lovers of the good, treacherous, rash, conceited, lovers of pleasure rather than lovers of God" (NIV).
Even as Satan is attempting to create outright warfare among the generations, the Lord is restoring unity to them, and He is beginning this work inside the church. Within our families, ministries, churches, jobs, schools, etc.; God is knitting together multi-generational teams that will fulfill various purposes for His kingdom.
Restoration Begins on a Personal Level
Beyond generational differences, the church also faces racial, cultural, and denominational barriers. These are never easy to cross; not if one plans to interact and live with such differences for more than a few months. Perhaps the greatest barrier within the church is the barrier of differing views on how one should please the Lord. One would think that this would be the uniting factor within the church! For the mature in the Lord, we believe that it is. However, with prideful and immature Christians (and none of us are perfect yet), different opinions about how one should please the Lord become major issues and stumbling blocks.
Perhaps this barrier is most evident within differing generational mindsets (after all, even denominations are composed by rules and precepts drawn by previous generations). We argue over how involved Christians should be within everything from politics to punk bands. What are the limits one should keep, as they reach out to a lost and dying world? What is mere legalism masquerading as holiness? And what about true holiness that is misconstrued as legalism? How tolerant is the Lord of our cultural blind spots? What are His greatest hates? What are His greatest loves?  We know that the answers, in part, can only be found within a mix of varying generations who are willing to listen to each other. The very thing that rubs us the wrong way is destined to separate the wheat from the chaff in our own hearts. "I am the way. I am the truth. I am the life" (John 14:6).
As long as our goal is to know and love Jesus above all, we will grow in the simplicity of the Gospel. As the world becomes increasingly complicated, we must never forget that simplicity. He is the answer to every question. In fact, He faced these very same issues every day, and we must follow in His steps. What was His greatest example? We do not think it was that He spent time with sinners, or upset the Pharisees. It is too easy to follow that "example" only as an outlet for our rebellion, imagining that everyone who corrects us is a modern-day Pharisee. No, the greatest example that Jesus left us, was that He was wholly dependant upon the Father to guide Him in every situation. He spoke only what He was told to speak. He did only what He was told to do. He lived in perfect obedience, not to outward rules but to the inward guidance of the Holy Spirit that rested continually upon Him and the word of God that dwelled richly within Him. In Jesus, the letter of the law and spirit of the law kissed each other. The beauty of that union has dazzled our spirits ever since.
Restoration Involves Death to Old Loyalties
We believe that this restoration of the generations is part of God's end time plan that will play a major role in silencing the Foe. We cannot arrive at this state of unity without some blood (dying to ourselves and applying the blood of Christ to our minds), sweat (it will take true effort on our part), and tears (repentance, prayer and seeking God's face). If you are in a situation of generational conflict, take heart. If you respond correctly, you will find that God is working His character within you. He will give you power to bring reconciliation that is like nothing like the world has ever seen. This wisdom will bring healing to the nations and exalt the name of the Lord across the entire earth.
Within the confines of the church today, God is raising up many peacemakers. We all have the opportunity to be a part of this group, but the only way to do so is to die to our old loyalties. We are talking about our cultural loyalties. Are we willing to lose who we are, so that Christ may be formed in us? Most of us want just enough of Christ within us to get by, while we hold on to as much of our old identity as possible. We must die to our way, so that His life might flow through us unhindered and untainted.
Despite our personal convictions, we must also ask ourselves this question: Am I willing to give others the grace to arrive at this place without immediately judging them for an appearance or lifestyle that is unacceptable to me? We did not gain our desire for death to our old ways merely because someone showed us a bunch of rules that we failed to keep. If that did not work for us, how can we expect it to work for others? We should rather prefer to die than to lead others to mere religion. We should want to awaken within them a passionate love for the Lord, that they will guard as their greatest treasure.
What is true holiness? We arrive at this place one step at a time. It begins when Jesus lets us catch just enough of a glimpse of His beauty, that we become dissatisfied until we know Him face-to-face and heart-to-heart! We need to come to the place that we can see that He is all we have ever wanted or needed. He truly is our source of joy. Because of that, we hate anything that comes between us. We must watch over our conscience, being careful to let none of our actions disturb it, because when our conscience is troubled, we will find a separation between ourselves and God. This eventually becomes so painful that it drives us to do anything to be close with Him again. Until we see that the pleasures of knowing Him are greater than anything else, we will inevitably fall back into the same old sins. Only when we are consumed in unbroken communion and passionate love for Him, will we be truly holy. And there is no way to this place, but through the death of our old self. It is impossible to know Jesus except through the cross. When we are dead to our old loyalties, all that matters to us is loving Christ, and leading others into that love.
Admonitions for All
If you are of the younger generation, it is crucial to remember these admonitions in Scripture:
Children, obey your parents in the Lord: for this is right. Honour thy father and mother; which is the first commandment with promise; That it may be well with thee, and thou mayest live long on the earth. Ephesians 6:1-3
Remember the days of old, consider the years of many generations: ask thy father, and he will show thee; thy elders, and they will tell thee. Deuteronomy 32:7
Remember them which have the rule over you, who have spoken unto you the word of God: whose faith follow, considering the end of their conversation. Hebrews 13:7
There is wisdom in the older generation that can only be received by those whose hunger for truth has forged humility within their hearts. If all you want to do is defend your views, you are robbing yourself of great wisdom and understanding. Much of what the older generation says is for our protection and good. Let us also point out that holding to the standards of ages past does not necessarily equate with a "religious spirit." Almost always, there are very good reasons for their standards, and those who are seeking wisdom will listen with an open mind. There is nothing more foolish than a youth who thinks they have seen it all, trying to correct an elder! Like Elihu, in the book of Job, it is better to keep your mouth shut until it is appropriate to speak.
Those who are older must also consider that expecting instant maturity from a young Christian is contrary to the illustration that we gain from watching a human body mature in the natural. Even so, we should diligently work to see that Christ is being formed within those the Lord has entrusted to us. Like good doctors, however, we must be certain that we are offering the right cure to those who are ailing. Similar symptoms do not always point to the same disease, and the wrong medicine can kill, rather than heal a person. We must remember that some traditions are neither good nor bad–and enforcing them in a legalistic way can be a stumbling block to children, who need the right balance between freedom and law. "But he answered and said unto them, Why do ye also transgress the commandment of God by your tradition?" (Matthew 15:3, KJV). "And, ye fathers, provoke not your children to wrath: but bring them up in the nurture and admonition of the Lord" (Ephesians 3:4, KJV).
One Holy Generation
In conclusion, let us be reminded that there is actually one holy generation that God is extracting from all the ages of human history. It is clear from Scripture that the entire overcoming Body of Christ is actually the same generation, no matter what age they live in! Consider the following verse, written two thousand years ago (emphasis mine). "But ye are a chosen generation, a royal priesthood, an holy nation, a peculiar people; that ye should show forth the praises of him who hath called you out of darkness into his marvellous light" (1 Peter 2:9, KJV).
Psalm 24 also speaks of this same generation (emphasis mine):
Who may ascend the hill of the Lord? Who may stand in his holy place? He who has clean hands and a pure heart, who does not lift up his soul to an idol or swear by what is false. He will receive blessing from the Lord and vindication from God his Savior. Such is the generation of those who seek him, who seek your face, O God of Jacob. Lift up your heads, O you gates; be lifted up you ancient doors, that the King of glory may come in. Who is this King of glory? The Lord, strong and mighty, the Lord mighty in battle. Lift up your heads, O you gates; be lifted up you ancient doors, that the King of glory may come in. Who is this King of glory? The Lord Almighty–He is the King of glory. (Psalm 24, NIV)
From these verses we can see that there is a spiritual generation that has nothing to do with our date of birth. It is the generation of God's overcomers, who have been on the earth throughout human history. This generation transcends 20, 50, 500 or 3,000 years difference in natural age. We also see from Psalm 24, that it is this spiritual generation that ushers in the "King of glory." He is being ushered in through a holy generation that has existed throughout all the ages of man. The year of our birth does not qualify or disqualify us from being a part of this generation. Rather it is the attitude of the heart. The famous verse from Joel that was quoted by Peter in Acts is specifically for both old and young people: Acts 2:17, "And it shall come to pass in the last days, saith God, I will pour out of my Spirit upon all flesh: and your sons and your daughters shall prophesy, and your young men shall see visions, and your old men shall dream dreams: And on my servants and on my handmaidens I will pour out in those days of my Spirit; and they shall prophesy."
The Apostle Peter, who applied the above verse to his generation, is part of the same generation that you and I belong to. We are the generation that seeks His face. Therefore, let us make up our minds to not view each other after the flesh, but after the life and calling of the Spirit within us. Let us deliberately mingle with other generations, yielding to the Holy Spirit as He works out the rough edges within us through this interaction. We need each other, not only to complete the Great Commission, but to complete that holy work of the Spirit that will make us humble and pliable, keeping to the straight and narrow and yet flowing with the new moves of the Spirit.
The Call
As the rest of the world experiences greater alienation with each other, and becomes more unrestrained, we must reach out in compassion, demonstrating the power of the Holy Spirit. O, that this work of restoration would begin within the church! The world is literally dying to see this love manifested anywhere! Once they see it, they will run to Him who is the restorer of us all. We must live out this call right where you are. It is a truly a call for this hour, and will be manifested in the day-to-day lives of a people who want to see a sweeping move of the glory of God more than anything in the world. Isaiah 58:12: "And they that shall be of thee shall build the old waste places: thou shalt raise up the foundations of many generations; and thou shalt be called, The repairer of the breach, The restorer of paths to dwell in."
---
Copyright (c) 2013 – Christ Unlimited Ministries – https://BibleResources.org
If this message has been a blessing to you and you would like to see more like them posted on this site, you can help make this possible by your gifts to Christ Unlimited Ministries. Donate

Betty Miller has written several books on other topics as well. To view titles or purchase those books visit our bookstore.

Topic: What the Bible says about Bridging the Generation Gap
Related Topics:  Ultimate Reconciliation of All; Overcoming Time Wasters; Instruction for New Believers
Click here for a listing of all Topics covered in our Bible Answer Page
End of the Article