Inspirational Bible Study Books
Spanish Editions
Presented by Christ Unlimited Ministries
---
Overcoming Life Series (Spanish Editions)
La Serie Sobreponiéndose a la Vida (Edición en Español)
A Practical Nine Volume Series on Christian Living in Spanish
Una Serie de Nueve Volúmenes Prácticos sobre la Vida Cristiana en Español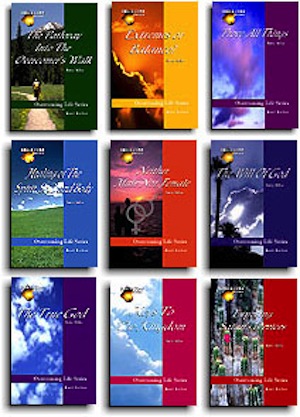 Los Nueve Volúmenes de
la Serie Sobreponiéndose a la Vida
por Betty Miller
About the Author
Kindle & Paperback Editions
Language: Spanish
Price: Kindle: $3.99 Paperback: $10.00
Paperback Size: 6" x 9"

Ediciones en Kindle y Cubierta Suave
Lenguaje: Español
Precio: Kindle: $3.99 Cubierta Suave: $10.00
Tamaño de Cubierta Suave: 6" x 9" Every Christian is faced with many important challenges in their daily walk through life. The nine books of the
Overcoming Life Series
are carefully designed to enable you as a new or seasoned believer to uncover timely and useful truths from the Bible and to learn how to skillfully apply these truths to your daily walk. From the author Betty Miller, these nine foundational books are a vital series you will want to study and use both in your personal walk with God and in helping others when they encounter challenges in their own spiritual journey.
Cada cristiano se enfrenta a muchos desafíos importantes en su caminar diario por la vida. Los nueve libros de la Serie Sobreponiéndose a la Vida están cuidadosamente diseñados para permitirle a usted, como creyente nuevo o experimentado, descubrir verdades útiles y oportunas sobre la Biblia y aprender a aplicar estas verdades hábilmente a su caminar diario. De la autora Betty Miller, estos nueve libros fundacionales son una serie vital que querrá estudiar y utilizar tanto en su camino personal con Dios como para ayudar a los demás cuando encuentren desafíos en su propio viaje espiritual.
The Nine Books in the Spanish la Serie Sobreponiéndose a la Vida are:
Los Nueve Libros en Español de la Serie Sobreponiéndose a la Vida son:
1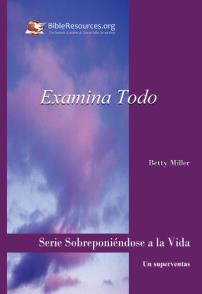 Examina Todo (La Serie Sobreponiéndose a la Vida — Libro 1)
— Cristo advirtió que la gran decepción sería uno de los signos de los tiempos finales. Se ofrecen pautas claras Bíblicas para discernir entre el Espíritu de la Verdad y el espíritu del error. El libro trata sobre cómo juzgar sin ser crítico.
2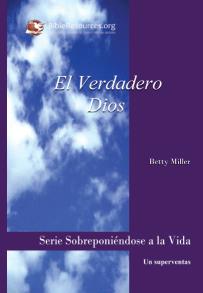 El Verdadero Dios (La Serie Sobreponiéndose a la Vida — Libro 2)
— Esta es una enseñanza sobre el carácter de Dios, explicando por qué Dios hace ciertas cosas, y por qué está en contra de su naturaleza el hacer otras cosas. Diferencia entre las cosas por las que Dios es responsable y las cosas por las que el diablo es responsable. Nuestra responsabilidad como cristianos destinados a superarnos nos hace claro para que podamos vivir vidas victoriosas.
3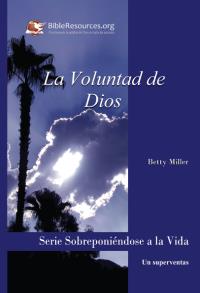 La Voluntad De Dios (La Serie Sobreponiéndose a la Vida — Libro 3)
— Esta lección nos enseña no sólo cómo conocer la voluntad de Dios en nuestra vida personal, en la familia, en el ministerio y en las finanzas, pero también trae consigo la comprensión de por qué Dios permite el pecado, la enfermedad y el sufrimiento en el mundo. Como vencedores, nosotros los cristianos no deberíamos de estar sufriendo debido a muchas cosas que hemos aceptado como normales.
4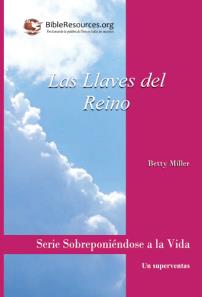 Las Llaves del Reino (La Serie Sobreponiéndose a la Vida — Libro 4)
— Las instrucciones sobre cómo ganar autoridad en el Reino de Dios a través de la oración es el tema de este libro. Muchos de los principios y métodos de la oración están cubiertos en este libro, tales como la oración en el Espíritu, el ayuno y el rezo, oración de dolor, alabanza, intercesión y guerra espiritual.
5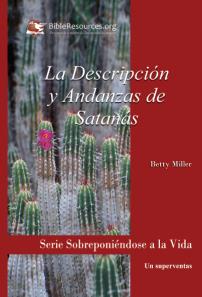 La Descripción Y Andanzas De Satanás (La Serie Sobreponiéndose a la Vida — Libro 5)
— Este libro es una poderosa exhibición de los trucos, tácticas y de las mentiras de Satanás. Los métodos de cultos y métodos ocultistas se enumeran para que así los cristianos puedan detectar sus actividades. Se discute la actividad del demonio, la liberación y la expulsión de demonios en detalle. Se pone al descubierto el reinado de Satanás y se le enseña al cristiano a superarse por medio del discernimiento espiritual de la lucha.
6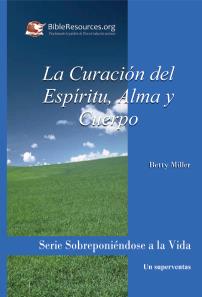 7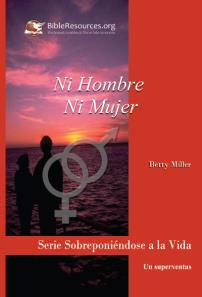 Ni Hombre Ni Mujer (La Serie Sobreponiéndose a la Vida — Libro 7)
— ¿Cuál es el papel de la mujer dentro de la iglesia y el hogar? ¿Quién es la guía espiritual de la mujer, y quien le protege? ¿Llama Dios a la mujer al ministerio de los cinco oficios ministeriales? ¿Qué nos dice la palabra de Dios sobre el divorcio, celibato, y como escoger a una pareja para el matrimonio? Estos y otros tópicos relacionados a la mujer son bíblicamente examinados.
8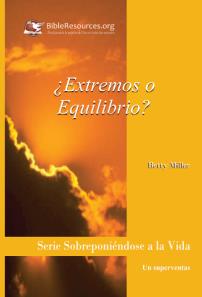 9